With the Smithsonian Museums and many of the region's other museums closed right now, people are exploring some of our neighborhood's other rich offerings — and history lovers are finding a gem to learn about women's history and suffrage nearby in Lorton, Va. 
What is the Lucy Burns Museum?
The Lucy Burns Museum at the Workhorse Arts Center is new, officially opened in January 2020, and with exhibitions still growing. The Museum tells the story of close to a century of prison history on the site as well as the story of the suffragists who were imprisoned on this spot in 1917 for picketing the White House for women's right to vote.
At the same site once stood Lorton Correctional facilities, which operated there for a total of 91 years from 1910-2001. The property has been re-purposed to support an innovative and growing arts center, as well as the unique museum, which highlights the place as a pivotal location in the fight for women's voting rights and the passage of the 19th Amendment.
Among the interesting things to see at the Lucy Burns Museum are a treasure trove of artifacts, displays, and information from this important moment in women's history in America. Placards are available to explain display items, but extremely knowledgeable docents are also able to share stories and provide historical insights.
Why Lucy Burns?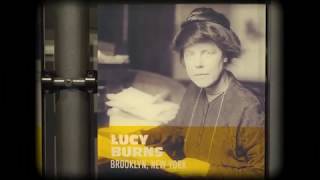 Lorton's Lucy Burns Museum was named after Lucy Burns, rather than perhaps better-known suffragettes like Alice Paul, because Burns was actually incarcerated at Lorton. This was a location where many suffragists picketing the White House for women's right to vote were imprisoned and force-fed.
But those interested in more than the suffrage movement will be fascinated at the Lucy Burns Museum as well, because the exhibits also showcase other civil rights activists and notorious criminals that were at one time imprisoned on site.
Civil Rights Activist Noam Chomsky was jailed on this site for anti-Vietnam War activism in the 60s, and Norman Mailer, who wrote his Pulitzer Prize-winning The Armies of the Night based on the October 1967 Washington peace demonstrations, was fined and jailed there for civil disobedience.
Other famous one-time residents include Chuck Brown, DC's "Godfather of Go-Go Music," who learned to read and play music during his eight-year sentence at Lorton in the 1950s — docents will tell you that he traded cigarettes for a guitar. Petey Greene, convicted of armed robbery before his time as an award-winning American television and radio talk-show host, also spent some time inside.
Years later, some of the people arrested during 1968's Poor People's March of Washington spent a few days there. And remarkable performers like Frank Sinatra, Ella Fitzgerald, Cunt Basie, and Duke Ellington performed on the site, even on the ball field in the 50s and 60s.
What is there to see and do?
Guests will be intrigued by historical objects on display, including prison-made tools for farming and industry, wall murals and graffiti, religious items, and a large collection of shivs, shanks, and restraints. Among the most interesting items are personal correspondence, many photographs, and the 1910-1925 prison escape log! You'll even see the 1916-1919 DC jail logs — plucked from the trash when the prison closed! — which includes the names, offenses, and sentences of all suffragists arrested during the 1917 and 1918 protest periods. This is something you can only see here!
But in addition to the artifacts, the best part about seeing this smaller, intimate museum are the stories that have been quietly archived and known locally. The Lucy Burns Museum is where the history from textbooks can be physically seen, and also where stories that never made it into those books can be passed on and shared.
How can you experience the Lucy Burns Museum?
Entry to the Lucy Burns Museum is free, but tours of the cell area, which we highly recommend, are available for $5 for those over 12 years old (free under 12). Under Virginia Forward Phase II, museum hours are Saturday 12:00 PM – 5:00 PM, but check the website for current hours of operation and tour availability.
And there's more!
Nearby, construction is being completed on The Turning Point Suffragist Memorial in Fairfax County. Make sure to see this long-awaited national memorial to the women's suffrage movement when it is unveiled later in Spring 2021.