Northern Virginia will be lit up with plenty of beauty this holiday season. There will be light displays all throughout the area. If you love seeing beautiful Christmas lights, this is the time of year for you.
Whether you live in Fairfax or you're in Springfield, there will be plenty of holiday light displays to enjoy. Let's look at some of the top holiday light displays for 2020 in NoVA.
4 Holiday Light Displays Found Throughout NoVA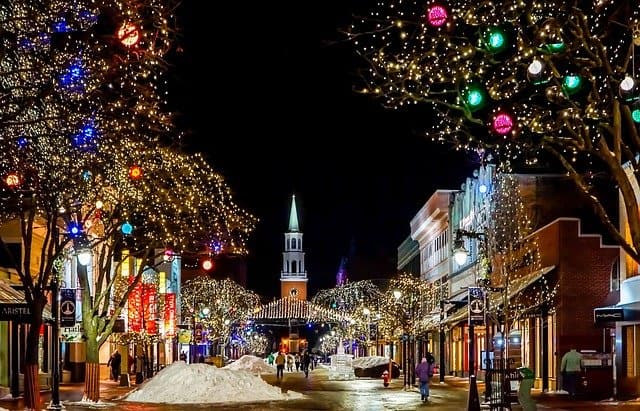 1. Meadowlark Gardens
Enjoy the winter walk of lights at Meadowlark Gardens this year. The trail will feature thousands of lights for your holiday fun. It's a half-mile-long trail, which is paved and friendly for strollers and wheelchairs.
As one of the best displays of Christmas lights near Washington DC, Meadowlark's Winter Walk will be one of the very popular holiday light displays. It's great for families, for a romantic date, or just for a stroll by yourself.
The Winter Walk of Lights will run through January 3rd. It will be open from 5:30pm to 10pm daily and from 5pm to 10pm daily starting December 12th. Tickets range from $9 to $18 depending on the age and the date you choose to go.
2. Bull Run Festival of Lights
If you prefer a drive-through option, the Bull Run Festival of Lights is one of the best holiday light displays in Northern Virginia. This Christmas light display is 2.5 miles long and includes plenty of lights to enjoy. It's a favorite of many locals and attracts many visitors every year.
The Bull Run Festival will run through January 10th this year. It will be open from 5:30pm to 9:30pm Monday through Thursday and from 5:30pm to 10pm on Fridays, Saturdays, and Sundays.
This is a very busy event and will likely attract extra attention this year. Tickets can be purchased online for $20 per car or $25 at the entrance. The busiest time will be from December 12th to 31st, so plan accordingly.
3. Ice & Lights
Found at The Winter Village at Cameron Run, this is one of the annual holiday light displays that offers plenty of fun. It's an interactive light show perfect for the holidays. This Alexandria option will be open from November 20th to January 3rd this year.
While the lights will run through January 3rd, the ice rink will remain open through February 28th. The Christmas light display will be open from 5pm to 10pm nightly.
4. SPCA Lights on the Bay
Found at Sandy Point State Park, the Lights on the Bay event will provide plenty of beautiful lights this year. It's a drive-through option with 60 animated displays and tons of lights to enjoy. This display isn't found in NoVA, but it's close by in Annapolis, MD.
The Lights on the Bay will run from November 20th to January 2nd. It will be open daily from 5pm to 10pm.
The cost is $20 per car and $30 for larger vans and mini buses. You will want to purchase 3D glasses to enjoy the amazing lights, as well.
Enjoy an entire event with plenty of lights, a live nativity scene, and so much more at the Leesburg Animal Park. The Christmas Village here features thousands of outdoor holiday light displays, but you get to enjoy it even more. Some of the fun you can enjoy includes:
Pony rides
Candy Cane Express rides
Photos with Santa Claus
Photos with Live Animals
S'mores and a Bonfire
A Live Nativity Scene
Animal Feeding & Petting
This is more than just a beautiful display of holiday lights in Northern Virginia!
Tickets cost $10.95 per person online and $12.95 at the door. The event is open on Fridays, Saturdays, and Sundays in December from 5pm to 9pm. It will also be open on December 22nd and 23rd from 5pm to 9pm.
Along with the events throughout Northern Virginia for holiday lights, you can use Holly's Tacky Christmas Lights website to find the best Christmas lights displays throughout Fairfax, Alexandria, Springfield, and other nearby communities. This website offers addresses and ratings. Some of the displays even offer music you can play in your car while you watch the lights.
There are plenty of options when it comes to holiday light displays throughout Northern Virginia. These are some of the best options, but you can also enjoy choices, such as:
Lighting of the Vines at the Bluemont Vineyard
The Spectacular Musical Tree Shows in Leesburg
Georgetown GLOW in Washington DC
ZooLights Express in Washington DC
And more!
There is no shortage of great options if you want to enjoy holiday lights this year in NoVA and nearby.