The state of Virginia is filled with great trails and places for hiking. Some of the best hiking options in Northern Virginia will lead you to a beautiful waterfall.
If you're ready to get outside and enjoy a beautiful waterfall hike, you need to know where to go. Here are some of the top waterfall hikes in Northern Virginia.
14 Waterfall Hikes Found in Northern Virginia (or nearby)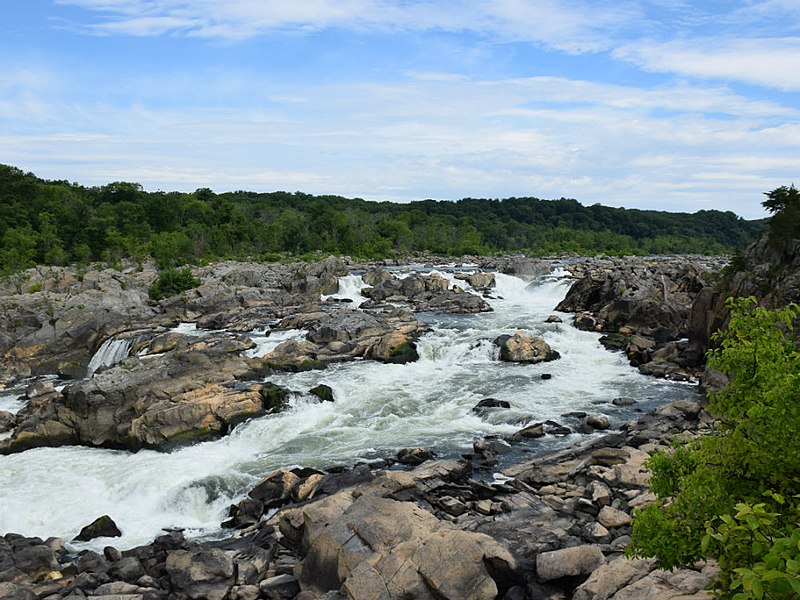 1. Crabtree Falls
A beautiful choice in Nelson County, Crabtree Falls offers the highest vertical drop cascading waterfall found to the east of the Mississippi River. This hike offers five cascades considered to be very large, with many smaller ones, too. Three miles of trails are found here with four overlooks to enjoy, too.
2. Great Falls Park
A beautiful place to hike in McLean, VA, Great Falls Park offers plenty of beautiful waterfalls. There's a steep drop on the Potomac River found here with Difficult Run Falls offers plenty of beauty to enjoy. You can find several waterfalls here with Overlooks 1, 2, and 3 offering great places to see the falls from.
You can enjoy the 4.6-mile Great Falls Loop, which will provide views of many of the best waterfalls here. There are a total of 15 miles of trails here with connections to others, as well.
3. Dark Hollow Falls
A beautiful waterfall you can hike to in the Shenandoah National Park, Dark Hollow Falls is a great choice. It's an iconic option and very popular.
4. Whiteoak Canyon
Another waterfall hike found in the Shenandoah National Park, Whiteoak Canyon is a bit of a steep choice. It's better for more advanced hikers and does offer a lower and upper viewing area for the falls.
5. Apple Orchard Falls
Found in Botetourt County, this beautiful hiking opportunity will take you through some of the most amazing areas in Northern Virginia. It's a sight to be seen and Apple Orchard Falls is certainly worth the trip.
6. Scotts Run Nature Preserve
Another choice in McLean, VA, Scotts Run Nature Preserve offers a few waterfall hikes you can enjoy. The waterfalls are a bit smaller here, but they are still rather amazing.
7. Kilgore Falls
The second-highest free-falling waterfall in Maryland, Kilgore Falls offers a good choice. It's not far from Northern Virginia and the hike is short to get to the falls. You can even swim at the bottom of the waterfall.
8. George Washington & Jefferson National Forests
Miles of hiking trails are found here with some passing by beautiful waterfalls. If you want to enjoy what will seem like endless hiking, the George Washington & Jefferson National Forests offer plenty of great options.
9. Cascade Falls
Located in Giles County a bit further to the west, this beautiful hike offers a 69-foot cascading waterfall. Cascade Falls provides an upper and lower path of the Cascades National Scenic Trail with a total of four miles to explore.
10. Blue Suck Falls
Found at the Douthat State Park, you can enjoy one of the top state parks in the country. Blue Suck Falls is found here and is just one of the many beautiful sights on the 43 miles of hiking trails.
11. Cabin Creek Trail Falls
Another unique option with two miles of trails, Cabin Creek Trail Falls offers a good option. It's not as crowded as some of the others on the list.
12. Stiles Falls
If you're willing to make a road trip south, Stiles Falls is a great choice for your waterfall hike. This 40-foot waterfall is found in Camp Alta Mons in Shawsville. It's a three-mile hike over Purgatory Creek to get to the falls.
13. Devil's Bathtub
A rather unique choice and one of the most unique places on the entire planet, Devil's Bathtub is a fun hike and waterfall. This magical place offers amazing views and it's found off Devil-s Fork Loop Trail
The natural swimming hole is fun to enjoy and does fill up on weekends. The trails are about seven miles long and they can be a bit difficult for beginners. This is another hike not close to Northern Virginia, but worth the trip.
14. Japanese Garden Falls
It's found in Richmond, so you will have to take a road trip from Northern Virginia to enjoy the Japanese Garden Falls. However, it's worth it with plenty of beauty and history found throughout the area.
If you're ready to enjoy some of the best waterfall hikes near Northern Virginia, this list offers plenty of options. Some are found further south or east and may require a road trip, but they are well worth the trip.