Fall hiking in Fairfax County is some of the best hiking of the year. The weather is just right, the views are amazing, and the air just feels better during the fall season.
Whether you're trying to take the entire family on a hike or you're looking to go it alone, there are plenty of great spots in Fairfax County for hiking in the fall. Let's look at a few of the best options when you want to hike during the fall in Fairfax County.
5 Amazing Fall Hikes in Fairfax County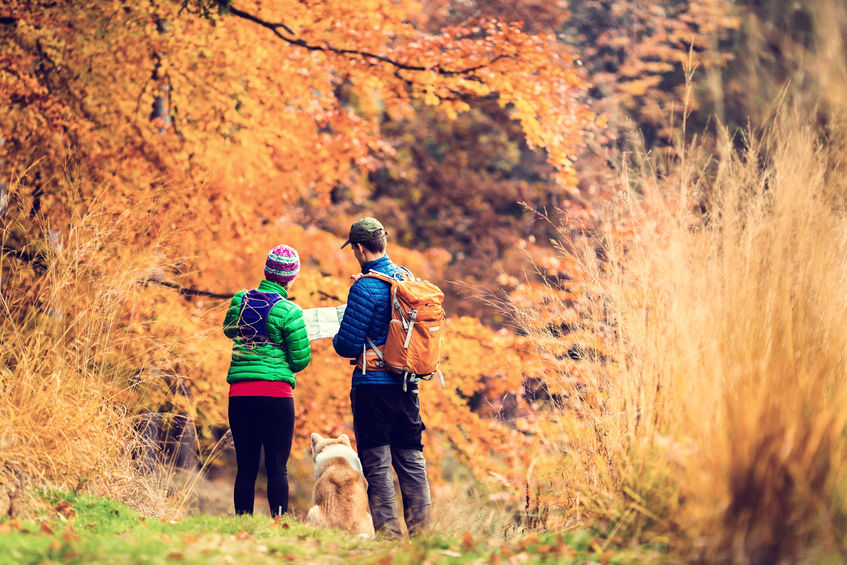 1. Burke Lake Park
Of course, the lake is beautiful, but how is the hiking? Burke Lake Park offers 4.7 miles of hiking. The path is mostly gravel and along the shoreline. If you're looking for incredible views of the lake and the fall foliage, this is a good spot in Fairfax County for hiking in the fall.
Along with the hiking, you can enjoy plenty of fun at Burke Lake Park. If you bring the family, you can enjoy all types of great activities before and after your hike. The park offers fishing, boating, a carousel, mini-golf, disc golf, and so much more.
Burke Lake Park is located in Fairfax Station. While it's certainly family-friendly, if you plan to hike the entire trail, it is long and might not be the best idea for younger children.
2. Lake Fairfax Park
A great option for the entire family, Lake Fairfax Park offers wonderful fall foliage and lake views. The trails offered here are both unpaved and paved, depending on the areas you visit.
You can enjoy an easy hike with the paved trails or head around the entire lake with some of the unpaved trails. The park also offers campgrounds, fishing, picnic areas, a carousel, a playground, and an outdoor swimming pool.
3. Great Falls Park
Of course, one of the very best places to go in Fairfax County for a fall hike is Great Falls Park. With 15 miles of hiking trails throughout, you can plan your hike to be as short or as long as you prefer.
You will find gravel and packed dirt trails here, so it might not be ideal for strollers or wheelchairs. However, those looking for a longer or harder hike will be able to find it here.
The views at Great Falls Park are some of the best in the area. You'll be able to enjoy the falls and the fall foliage all in one trip.
Along with the hiking trails, the park offers 5 miles of horseback riding and biking trails to discover. You can enjoy around 800 acres of space with some of the best views of the Potomac River here.
4. Lake Accotink Park
An amazing spot for a fall hike in Fairfax County, Lake Accotink Park offers a beautiful main trail with incredible views. It's surrounded by marsh and forest, which provides plenty of fall foliage to enjoy.
The main trail is about 3.75 miles long and can be used for hiking and biking. You can also enjoy Civil War Trails found near the parking lot with plenty to discover.
Lake Accotink Park offers miles of trails throughout with even more on the north side of the lake. A paved trail is found as a part of the Gerry Connolly Cross Country Trail, which travels across Fairfax County.
Whether you want to enjoy a shorter hike as a family or a longer hike alone, there are plenty of great options here. The park also offers fishing, a boat launch, miniature golf, a carousel, and plenty of open areas for picnicking.
Lake Accotink Park is located in Springfield, making it a convenient place for a fall hike in Fairfax County.
5. Pohick Bay Regional Park
With more than 8.5 miles of trails, you can enjoy wonderful hiking with views of the Pohick Bay here. The Pohick Bay Regional Park is a dog-friendly park with plenty to enjoy for you and your pup.
The bayside views make for great pictures in the fall. The network of trails will take you through the park and provide views of the bay, along with other natural areas. It's a popular spot for those seeking to watch bluebirds, as well.
Along with the hiking, Pohick Bay Regional Park offers mini-golf, fishing, equestrian trails, disc golf, camping, boating, and much more.
When you want to get out and enjoy the beauty of the fall season, hiking at any of these five spots is a great option. Some of these hikes are better for families than others. Make sure you plan ahead with plenty of water, snacks, and other supplies.