Debt Free, No Mortgage, Homeowner, Principal Contributions
Caliber Home Loans – Lee Williams
It may be an all too common belief that a person will have a house payment and a car payment for the rest of their lives. However, with a plan and some determination, you can be mortgage free.
Planning for retirement is obviously important and many times, an activity plagued by procrastination. Some homeowners' goal is to have their home paid for by retirement, so they won't have payments. It makes sense to eliminate a sizable recurring expense before they quit working.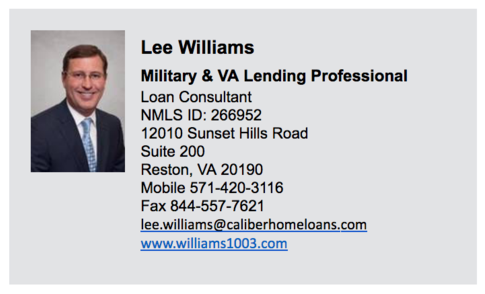 By making regular principal contributions in addition to the payments, the debt can be eliminated by the target retirement date.

Assume a homeowner refinanced their $300,000 mortgage at 4% last year for 30 years with the first payment due on May 1, 2017. With normal amortization, the home will be paid for at the end of the term.

Additional principal contributions with each payment will save interest, build equity and of course, accelerate the payoff on the home. An extra $250.00 a month would pay off the mortgage 7.5 years sooner. $786.81 extra with each payment would pay off the loan in 15 years.

Having a home paid for at retirement has the apparent benefit of no house payment. A debt-free home is also a substantial asset that could be borrowed against or sold if unanticipated events should occur.

To make some projections to pay off your own mortgage, use this use the Equity Accelerator calculator.

We want to be your personal source of real estate information and we're committed to helping from purchase to sale and all the years in between. Contact a LIST WITH ELIZABETH® preferred lender. Call Lee Williams from Caliber Home Loans at 571-420-3116 today or click HERE for more information!