Who has the Tea? Springfield Va Shopping Center gets a Facelift.
The Old Keene Mill Shopping Center located in Springfield, VA is hoping to have all the construction completed by Thanksgiving of 2019!
I was on a mission Sunday afternoon. One, to try something new at Starbucks; little consistency addiction. And two, find out when all the construction was going to be completed at the Old Keene Mill shopping center in Springfield, Virginia. This shopping center consists of all the bells and whistles one would desire for a local market; including a Whole Foods, Starbucks, Yoga Studio and Planet Fitness. Only one thing is missing, a store front for all the stores.
I ordered the Green Peach Teavia Tea at Starbucks and looked outside the window to see the beginning stages of a complete, cosmetic overhaul. I asked the Starbucks employees a few questions and it was soon discovered that very little was known about the elephant or should I say scaffolding in the room. I resisted the urge to order a scone and focused my energy on the most burning question at the moment: what's the tea on Old Keene Mill?
I walked over to Whole Foods and though I was met with bright smiles and my favorite produce selection, I was still left to wonder when the neighborhood could expect the big reveal of an upgrade. I set my camera gear up next to my car and was just about to sign off with the quote, no news is good news- to come. But to my delightful surprise, serendipity had another plan brewing for me.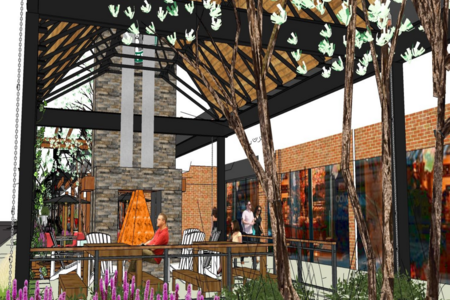 A Volvo SUV pulled up in the parking space next to my car. Out walked an older gentleman from India, Mr. Mehta. He inquired on what I was doing and if it was okay for him to park in that space. I asked if he knew about the neighborhood and soon realized I hit the jackpot of Springfield, VA information. Not only does he own the Walgreens behind the Whole Foods store near us, he owns several office buildings in the vicinity. He's in fact lived in Springfield, VA for fifty-two years. Mr. Mehta informed me that construction would be done in approximately two years and that many local consumers have been confused as to whether the shops are open, due to the metal fencing around the stores.

The wind blew and my camera flew back which required reset up. During that time, he told me that he is an attorney and his home was voted the best home in Springfield, VA a few years prior. He proceeded to show me pictures that included a video of the elevator in the middle of his living room. I watched it go from the second level to the first and thought, all I need in this life is an elevator.

I wrapped up thanking him for his time and felt lighter to my step having experienced a productive Sunday. I tried a new drink that I love. I met someone who inspired me and I got my question answered. So, who has the tea you ask? It could be the person that parks next to you.

After checking with the Shopping Center owners, Federal Realty actually stated that the renovations will be completed by Thanksgiving 2019. So 2 months, not 2 years. I'm looking forward to seeing the final results and not having any construction dust in my tea! 🙂

WATCH MY VIDEO BLOG of my trip to Old Keene Mill Shopping Center BELOW!