Getting out on the trails offers plenty of fun, especially when you saddle up for a mountain trail ride. Northern Virginia has many excellent equestrian trails for you to enjoy throughout the area.
When you're ready to do a bit of horseback riding, you need to know where to go. Let's look at some of the top equestrian trails throughout Northern Virginia and a few other really great options not far away.
Northern Virginia's 5 Top Equestrian Trails
1. Salamander Resort & Spa Equestrian Center
Offering much more than just trail rides, Salamander Resort provides a full equestrian center in Middleburg. The facilities cover 25 acres of space with entry-level equestrian options, along with more advanced options.
Salamander Resort offers 22 stalls, nine paddocks, and a wonderful outdoor riding arena. They also offer lessons and plenty of countryside for trail riding.
Plenty of trail riding options are available for groups and for private trail rides. Enjoy natural beauty throughout your ride with some wooded trail areas and others offering views of the countryside.
2. Washington & Old Dominion Railroad Regional Park
The Washington & Old Dominion Railroad Regional Park is known as the skinniest Park in Virginia. It's home to plenty of things to do including a paved trail for running, cycling, skating, and horseback riding.
A massive trail option with 32 total miles of horseback riding path, the W&OD Trail runs from Fairfax County to Purcellville. It's located in Loudoun near Ashburn.
The trail is built on an old roadbed from the Washington & Old Dominion Railroad. While it's actually 45 miles long and a multi-use trail, 32 miles of the trail can be used for horseback riding. The horseback trail is actually an adjacent gravel trail.
Enjoy beautiful views of the Northern Virginian countryside on this trail. Some sections of the trail even go through the urban heartland.
3. Lake Accotink Trail
Another equestrian trail in Northern Virginia, the Lake Accotink Trail is 4.5 miles long. It's located in Fairfax with trail ends at Heming Avenue in Springfield and the Marina at Lake Accotink Park.
The trail is built on the old Orange and Alexandria Railroad rail bed. It includes several historical markers along the way and horseback riding will provide incredible views throughout.
4. Sky Meadows State Park
Located in Delaplane, the Sky Meadows State Park offers 1,860 scenic arcs to enjoy. It's filled with things to do including plenty of equestrian trails to enjoy.
The park offers 10.5 miles of bridle trails, 8 miles of bike trails, and 22 miles of hiking trails. It even offers access to the Appalachian Trail.
5. Marriott Ranch
If you want to feel like a real cowboy or cowgirl, the Marriott Ranch is the place for you. It's a massive 4,200-acre Texas longhorn cattle ranch with amazing views and plenty of space to explore.
Located in Linden, this ranch offers guided horseback riding with plenty of trails to discover. Enjoy trails throughout the foothills of the Blue Ridge Mountains offering some of the most amazing views of pastures, creeks, woods, and more.
A Few More Great Equestrian Trails Close to Northern Virginia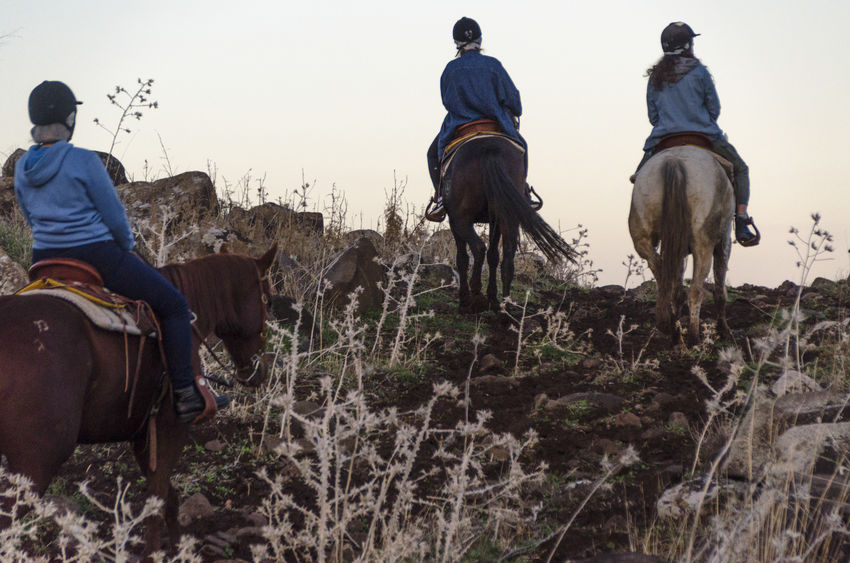 1. Mountaintop Ranch Wilderness Horseback Trail Rides
An incredible choice for those seeking amazing views of the Blue Ridge Mountains, the Mountaintop Ranch Wilderness Horseback Trail Rides provides one and two-hour options. The rides are guided and themed for even more fun.
If you're in the Shenandoah Valley area near the Shenandoah National Park, these guided trail rides offer plenty of fun for the entire family.
2. Stonehouse Stables
Those seeking a coastal Virginia option for equestrian trails will enjoy a trip to Stonehouse Stables. It's found in Toano, Virginia near James City.
You'll find horse shows here, along with the Lakewood Trails, which offers an amazing choice for all riders. One-hour guided trail lessons are offered with about two miles of wooded trails to enjoy.
3. Robbin's Nest Farm
A full vacation can be had at Robbin's Nest Farm. This private retreat and horse farm offers lodging, a museum, camping options on the river, and six horse trailer sites with water and electric.
The location on the James River makes for an incredible place to spend a long weekend or an entire week. Plenty of equestrian trails are found here with amazing views.
When you're ready to saddle up and hit the trails, all of these options provide something amazing. Choose the option you like best and get out in Northern Virginia to enjoy great views from one of these equestrian trails this summer.