Restaurant Association Metropolitan Washington (RAMW) announced the winners of its 38th annual RAMMY Awards in mid-September during a two-hour virtual program broadcast live from the Walter E. Washington Convention Center. The event, which celebrated the region's resilient hospitality community and honored winners in 20 award categories with special distinctions, was viewed live by a first-ever public audience.
The best part? A Springfield restaurant was among those that earned a top honor! Yasmin Orozco of Taco Bamba Taqueria Springfield took home the coveted Employee of the Year Award. This popular taqueria, owned by Chef Victor Albisu, has five Northern Virginia locations, but it was Orozco's fine work and service at the Springfield location that earned her the accolade.
For over thirty years, RAMW's RAMMY Awards have honored the hard-working individuals and organizations of the metropolitan Washington region's restaurant and foodservice community.
Historically the RAMMYs are all about the accomplishments of the year before, but as more than 80 venues in the region have already announced they will permanently shutter, RAMW President Kathy Hollinger said it would be "ridiculous not to acknowledge the moment that we're in right now."
She described the future of the industry as "challenging, but hopeful," and touted RAMW's work to support it during these long months of the pandemic. So while the program honored finalists based on the 2019 year of dining, RAMW recognized that 2020 has posed unique challenges that the industry continues to navigate.
Winners in four categories were voted on by the public, including Favorite Gathering Place, Upscale Brunch, Casual Brunch, and Favorite Fast Bites. All others were chosen by an anonymous panel of volunteer judges, consisting of food and dining journalists, educators, and food service industry professionals.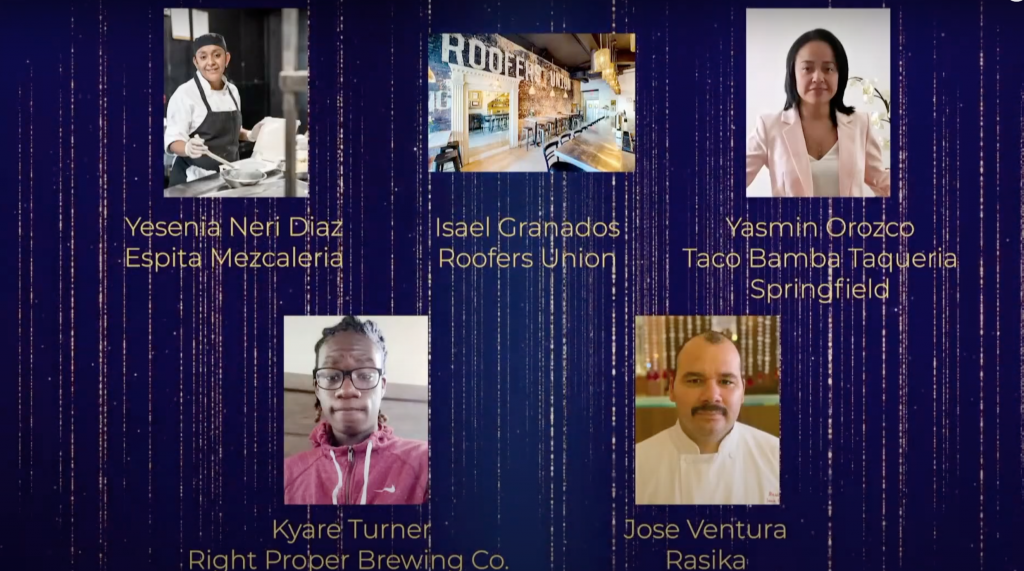 Orozco appeared at the virtual awards to thank the panel that selected her as the Employee of the Year winner.
"First of all I want to thank God for letting me win such a prestigious award," she said, continuing on to thank her family, friends, coworkers, bosses, and "Chef Victor."
"The day that I had my interview, I told my son, 'I think I did pretty good.'" But she said that even if she didn't win, she'd still feel happy "as if I won it."
And she did! She deserves congratulations upon your next visit to Springfield's Taco Bamba.
Here is the full list of winners from the 38th Annual RAMMY Awards:
Upscale Brunch of the Year: Trummer's
Casual Brunch of the Year: All-Purpose – Shaw
Favorite Gathering Place of the Year: The Salt Line
Favorite Fast Bites of the Year: Shouk
Service Program of the Year: St. Anselm
Beer Program of the Year: Roofers Union
Cocktail Program of the Year: Royal
Wine Program of the Year: Field & Main
Casual Restaurant of the Year: CHIKO – Capitol Hill
Employee of the Year: Yasmin Orozco, Taco Bamba Taqueria – Springfield
Manager of the Year: Jamal Flowers, Rocklands Barbeque and Grilling Co. – Alexandria
Regional Food and Beverage Producer of the Year: Atlas Brew Works
Formal Fine Dining Restaurant of the Year: Three Blacksmiths
New Restaurant of the Year: Cane
Upscale Casual Restaurant of the Year: Poca Madre
Pastry Chef of the Year: Paola Velez, Kith/Kin [now Maydan and Compass Rose]
Rising Culinary Star of the Year: Angel Barreto, Anju
Restaurateur of the Year: Yama Jewayni, Katsuya Fukushima, Daisuke Utagawa, Daikaya Group
Chef of the Year: David Deshaies, Unconventional Diner